Hotel Ragno***
in Jesolo Lido.
Hotel Ragno, set in the splendid Jesolo Lido, welcomes you to its privileged location, just 50 metres from the beach and a stone's throw from the renowned Via Bafile, the longest pedestrian area in Europe.
If you want a relaxing beach holiday, we are the 3-star hotel in Jesolo for you, with 45 well-kept, comfortable, rooms, friendly, punctual service and top quality traditional cuisine.
Private beach 50 metres from the hotel, on one of the most beautiful Adriatic shoreline's!
Simple and comfortable,
perfect for your holiday in Jesolo.
Our cuisine,
genuine and traditional.
A stay at Hotel Ragno is a stay characterized by good taste and good genuine cuisine, bringing to life the flavours and aromas of the Venetian gastronomic tradition.
We are most attentive to the tastes and preferences of our guests, with a wide choice of fish, meat or vegetable dishes to delight your palate.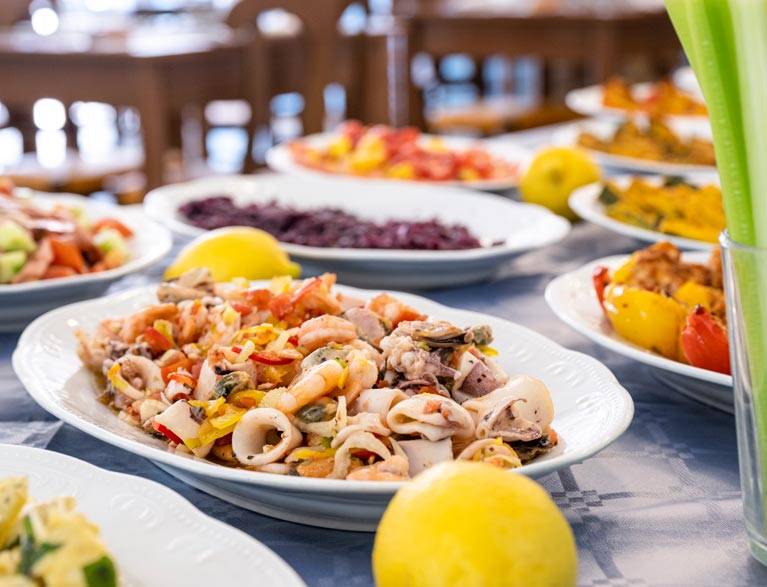 The opinions that really matter
are those of our guests!
Excellent reception also for my specific needs of disabled people, maximum availability and friendliness of management and collaborators. Good cuisine, refined but without excesses of salts and fats. Experience that I will repeat with pleasure!
I stayed with my family for 2 nights, I must say that we had a great time, from the availability and friendliness of the owner to the staff who are very attentive to every request. Very clean hotel in every corner, great and plentiful food… highly recommended!
It is the third year that we stay at the Hotel Ragno and we will be back for sure. Simply fantastic owner, very nice and polite staff, spotless room and great food.
The food is very good, large portions, very clean beach 30 meters from the hotel. Friendly staff. We will come back again.
Absolutely exceptional, cute, spotless, mouth-watering breakfast and dinner. Stayed with our labrador, they were all wonderful!
Nice room, cleaning every day, comfortable bed, elevator, perfect quality wifi, good air condition, big wardrobe, the beach and shops are very close, but the place not noisy. The staff is really kind, helpful. If the weather is bad, or the sea is not enough salty for you, the food makes your stay enjoyable, because the kitchen is amazing!
Let us accompany you to discover
our territory.